Description
DIGITAL DELUXE EDITION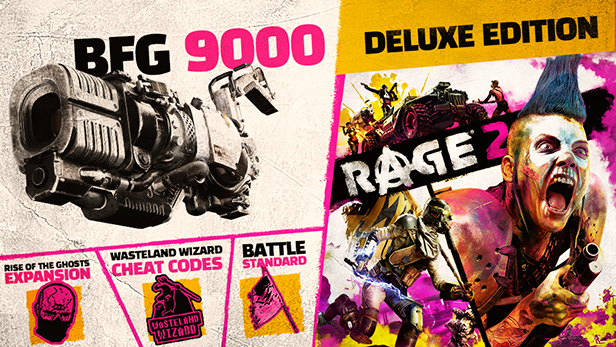 The RAGE 2: Deluxe Edition gives you:
Rise of the Ghosts Expansion. Available by 09.26.2019
Doom BFG
Wasteland Wizard Cheat Codes
Battle Standard
Progress Booster
TERRORMANIA EXPANSION AVAILABLE NOW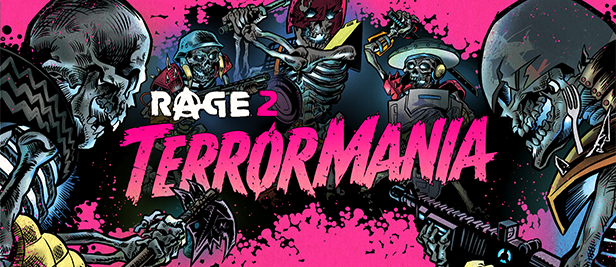 In the second expansion you'll explore the twisted and cursed alternate reality of the wasteland, the Deadlands. Reverse the curse before the skeletal forces of darkness can break free and take over the land of the living. Sounds easy enough, right?. Arm yourself with a brand-new weapon – a powerful sword that's also the key to unlocking the gates between realities – and face off against a legion of skeletal enemies.
TerrorMania introduces:
New Weapon: Sword of Transitus – An ancient relic of unspeakable power.
New Location: The Deadlands – Explore an alternate reality version of the wasteland. Once you complete the DLC story, you'll be able to return to each location in the Deadlands and experience them again.
New Enemy: Army of the Dead – Face off against the undead versions of familiar factions like the Goon Squad, Immortal Shrouded, River Hogs and Abadon Muties.
RISE OF THE GHOSTS EXPANSION AVAILABLE NOW

The Ghosts may have just been a wasteland folktale, but not anymore. They're real and so are their plans for domination. Armed with nanotrite abilities and led by the fearsome Iris, the Ghosts are dangerous enemies. Navigate the Overgrown City, a huge new area, and put a stop to their uprising.
New Story and Enemy Faction
New Weapon- Feltrite Laser Launcher
New Ability- Void
Huge New Region to Explore
Dive headfirst into a dystopian world devoid of society, law, and order. RAGE 2 brings together two studio powerhouses–Avalanche Studios, masters of open world insanity, and id Software, creators of the first-person shooter –to deliver a carnival of carnage where you can go anywhere, shoot anything, and explode everything.
An asteroid has annihilated 80% of the earth's population, and humanity's numbers are dwindling. Ruthless and bloodthirsty gangs roam the open roads and the tyrannical Authority seek to rule with an iron fist. As Walker, the last Ranger of the wasteland and a threat to their power, you have been robbed of your home and left for dead. Now you'll have to rage for justice and freedom. With ludicrous vehicle combat, super-powered first-person mayhem, and an open world full of emergent madness, you will tear across an unforgiving wasteland battling sadistic gangs to find the tools and tech needed to crush the oppressive rule of The Authority once and for all.
Key Features:
WELCOME TO THE SHOOTERVERSE
id Software's shooter pedigree and Avalanche Studios' open world prowess is dream-team-made-real for RAGE 2. It's more than a shooter, more than an open world game – it's a shooterverse.

THE WASTELAND AWAITS
Seamlessly traverse a vast and varied landscape, from lush jungles and treacherous swamps to sun-scorched deserts in your pursuit of The Authority. The wasteland is massive, and you've got the arsenal to fight for every inch.

PEDAL TO THE METAL
From monster trucks to gyrocopters, use an assortment of rugged and wasteland-ready vehicles to speed across the badlands. If you see it, you can drive it.

THE LAST RANGER
Bring the pain using a collection of upgradable weapons, devastating Nanotrite powers, and Overdrive, the ability to push your guns beyond their mechanical limits.

FACTIONS & FOES
Fight against ferocious factions for control of the wasteland, each featuring a rogue's gallery of madmen, mutants, and monsters hungry for blood.

MATURE CONTENT DESCRIPTION
The developers describe the content like this:
Contains, Blood and Gore, Intense Violence, Strong Language, Suggestive Themes
RAGE 2 is a first-person shooter in an open-world, post-apocalyptic setting.
Players assume the role of Walker, one of the last survivors of an attack on the secluded enclave known as Vineland. Players have control over some of Walker's characteristics such as their gender, skills and attire.
Walker wields various firearms and tools to fight against enemies, including traditional guns like a shotgun and pistol, the boomerang-like Wingstick and sci-fi weapons like the Grav-Dart Launcher. Over the course of the game, players will acquire new skills and abilities, like Overdrive, which significantly increases the power and effectiveness of their attacks, Shatter, which pushes back enemies, and Slam, which propels Walker in the air before slamming down onto enemies, dealing damage and throwing them back.
Enemies in RAGE 2 consist of different types of human bandits, human-sized mutants, cyborg mutants and enormous super mutants.
RAGE 2 also features vehicular combat and racing, with the player being able to drive any vehicle in the game world.
SYSTEM REQUIREMENTS
MINIMUM:
OS: Win7, 8.1, or 10 (64-Bit versions)
Processor: Intel Core i5-3570 or AMD Ryzen 3 1300X
Memory: 8 GB RAM
Graphics: Nvidia GTX 780 3GB or AMD R9 280 3GB
Storage: 50 GB available space
RECOMMENDED:
OS: Win7, 8.1, or 10 (64-Bit versions)
Processor: Intel Core i7-4770 or AMD Ryzen 5 1600X
Memory: 8 GB RAM
Graphics: Nvidia GTX 1070 8GB or AMD Vega 56 8GB
Storage: 50 GB available space